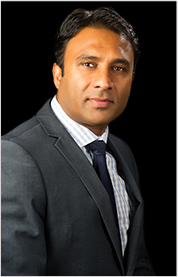 Dr. Rasika Hendahewa
General, Laparoscopic surgeon &
Gastrointestinal Endoscopist
Senior Lecturer of University of Queensland
Associate Fellow of American College of Surgeons
Sessional Rooms
87 McKean Street
Caboolture, QLD, 4505
Phone : (07) 5495 9440(07) 5495 9440
Fax : (07) 5495 9546
Specialty : General Surgery
Qualifications : MBBS. MS. FRACS
Special Interests : Laparoscopic Surgery, Breast and Endocrine, Colorectal, Gastrointestinal Endoscopy
Profile
Dr Hendahewa is an experienced Specialist General Surgeon with very high positive patient feedback. He completed his Australian fellowship(FRACS) in 2015, Royal College of Edinburg's Membership exam in 2009 and Master of Surgery in 2007.
Dr. Rasika Hendahewa General Surgeon and Endoscopist is pleased to announce that he is now consulting and operating at Caboolture Private Hospital.
Dr. Rasika Hendahewa has been based at Caboolture Hospital since 2010.
Dr. Hendahewa has a keen interest in teaching and education and has been appointed a Senior Lecturer at the University of Queensland. In addition he has been published in many international papers including a randomised clinical trial.
Special Interests:
Laparoscopic Surgery
Breast and Endocrine
Colorectal
Gastrointestinal Endoscopy
Memberships:
Member of Royal College of Surgeons Edinburgh
Fellowship of Royal Australasian College of Surgeons
Fellowship of International College of Surgeons
Associate Fellowship of American College of Surgeons
Dr. Hendahewa prides himself on being very approachable and for providing a prompt and thorough clinical service to colleagues and patients.